Staff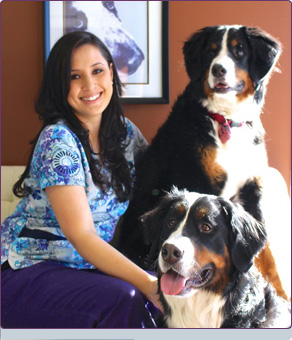 Teresa Guy, Veterinary Assistant, has been with Pets First since 2013, and has worked in the veterinary field since 2005. She earned her veterinary assistant certificate from Pima Medical Institute. She is planning to continue her schooling to become a Certified Veterinary Technician.
Teresa's positive attitude, sincere love of animals, and ability to do some serious multi-tasking make her exceptionally well-suited to her position. When asked what stands out about the clinic, she says "Our goal is to provide you with the highest-quality care for your pet. We love and care for our patients as if they were our own!"
Teresa's four-legged children are two beautiful Bernese Mountain Dogs names Dougie and Taya. Her interests include hiking with her Berners and spending time with family.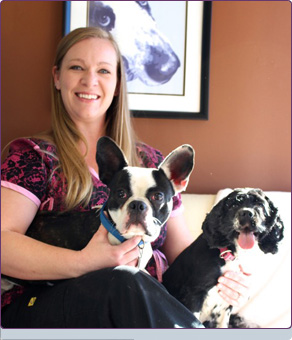 Monique Cardine Brown, Veterinary Assistant and Receptionist extraordinaire, has been with us since 2013. She has worked in the veterinary world since 2002. She has an Associate's Degree of Applied Science in Computer Science, and is enrolled in online classes with the University of Edinburgh.
"All of our patients benefit from everyone's genuine desire to make every visit the best visit possible. Compassion is key and it shows in the entire staff," Monique says.
At home, her animal family includes her kitty named Angel, her cocker, Andi, and her Frenchie/Boston, Butters. She loves baking (although she admits to some frustration with the high altitude), reading, and camping and hiking with her husband and four kids.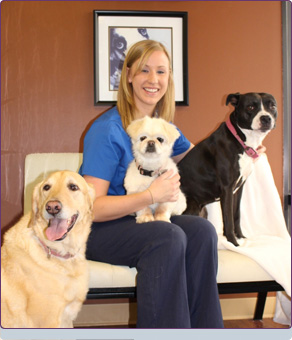 Amber Brooks, our client care specialist, joined our staff in 2015 and is on hand to offer a warm welcome to our patients and their two-legged parents. Her favorite task is to make our fuzzy friends feel at home.
"Everyone here is so caring and hard-working! Our clients are amazing and seem more like friends," Amber says.
Amber has three dogs: a Pekingese named Ellie, Mona her very silly Pitbull, and Louann, a Lab-Golden mix (who seems a bit ADHD). She recently passed our ridiculously stringent conditions to adopt our darling hospital kitty, Lincoln. In her free time, she enjoys running, fishing, and hanging out with her husband and son.